Information on the European decision-making processes is available across various databases and other sources. Keeping up-to-date and getting that complete picture takes a great deal of effort and time.
With EU Monitor you can see how far into the legislative process a proposal is. What opportunities are open to your organisation or to your clients to influence the final legislation? EU Monitor lists stakeholders and documentation from all EU institutions providing you vital information to act.
Read up on the latest news from the institutions to keep informed of the latest developments.
Access to all relevant information
-

Council and Commission register

-

websites of all EU institutions & agencies (news and agenda)

Current state of affairs at a glance
Information from all sources are bundled in comprehensive dossiers, with key information provided for. The broader picture is at your fingertips as well, with related dossiers and background documents made available.
"Anytime, anywhere and tailored to your needs"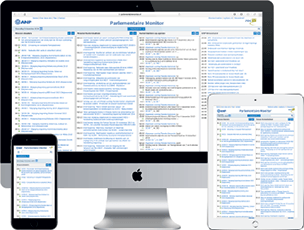 EU Monitor is updated continually, all sources are monitored 24/7. EU Monitor can be accessed any time on eumonitor.eu and supports most mobile devices and tablets.
EU Monitor can be tailored to fit you and your organisation in a manner you decide. Create your own personal profiles that generate e-alerts for you and other colleagues. You can also opt to disseminate information to your organisations and stakeholders through a digital newsletter or your own intranet. The newsletter can be tailored to your brand.
Want to know more?
If you want to know more about or are interested in the EU Monitor please contact PDC through our contact form or by phone (+31 70 3560238).